Please support our cause. We are saving lives one survivor at a time.
Click to Donate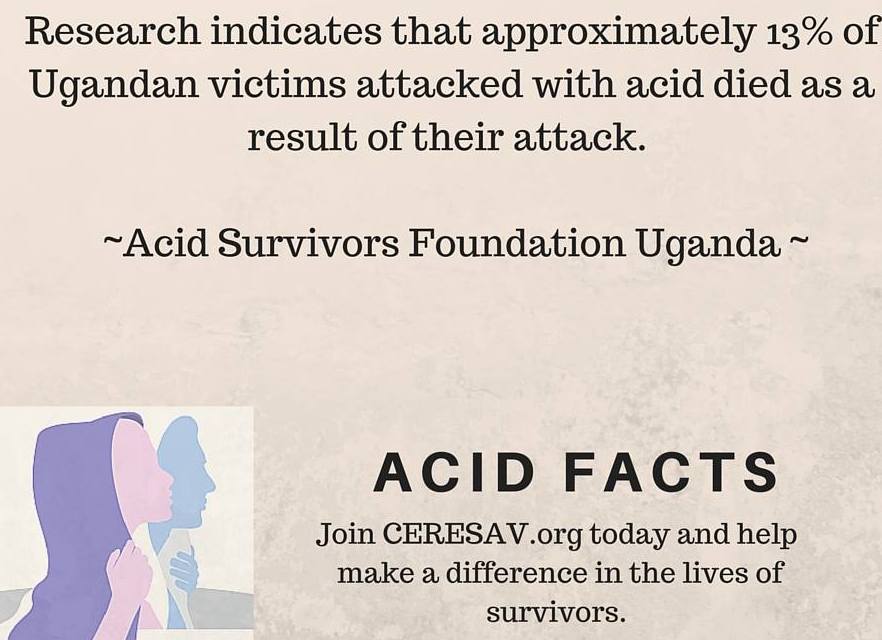 For the past 6 years, CERESAV (Center for Rehabilitation for Survivors of Acid and Burn Violence) has carried out survivor-led campaigns to raise awareness of the problem of acid attack violence in Uganda. Acid attacks disproportionately affect women, young adults and children who face severe injuries, long, expensive hospital stays and often, rejection by family and community members.
Our primary focus area is to save lives during the critical time in the hospital as well as in the community by providing direct medical support in the form of medicine, bandages, surgical costs, food and transportation. We also promote proactive citizenship where survivors can live with dignity through a range of programs that include: Psychosocial Support, Nutritional Support, Rehabilitation, Community Reintegration, Referral Services, Education, Advocacy and Sensitization and Economic Empowerment.
You can learn more on our website: http://ceresav.org/
Thank you for your support!
Donate via Credit Card or eCheck
Center for Rehabilitation of Survivors of Acid and burns Violence (CERESAV) FAQ
Is my donation tax deductible?
Yes, we are a fiscally sponsored project of Social Good Fund, which is a public 501c3 organization recognized by the IRS. Your donation is tax-deductible to the fullest extent permissible by law.
WeDidIt FAQ
Is my donation and credit card info secure?
Yes, the security and confidentiality of your information is our highest priority. We will not sell, trade or share your personal information with anyone else, nor send donor mailings on behalf of other organizations, and we will only share personal information if you have given us specific permission to do so.
How do I know that my donation was made successfully?
You will receive an emailed receipt immediately after your donation is submitted and your credit card is processed. Your donation will also show up on your bank or card statement within 1-3 business days.
Do I get a receipt?
Yes, a receipt is sent to your email inbox once your donation is processed. Please be sure to keep a copy of your receipt for tax purposes. If you select a recurring donation, you will be sent an individual receipt each period when your donation is processed.
Is my donation private?
We will not share or sell a donor's personal information with anyone else, nor send donor mailings on behalf of other organizations.